Immigration Law in the US is rather complicated with many various visa and permit types. Procedures to obtain a visa can be lengthy too. Make sure to work with a professional agency to assist your employees throughout the immigration procedure.
---
Immigration to the United States
There are a number of factors that have an impact on the immigration procedure in the United States. Your nationality, the purpose of your stay, and the duration of your stay will determine the correct option for you. Here we look at some of the most common options.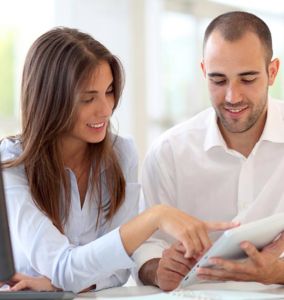 Visa Waiver Program (ESTA)
Citizens of some countries can enter the United States without a visa and stay for up to 90 days as a tourist or on business travel. To do so, you must be in possession of a return flight ticket as well as a machine-readable passport. Certain persons are excluded from this visa waiver, including pupils, students, drug dealers, and terrorists. It is not permissible to be employed and earn money in the US and it is also not possible to extend your stay.
B1/B2 Visa
Depending on the purpose of the trip, visitors can spend up to six months in the USA. Those traveling on business should apply for a B1 visa while tourists apply for a B2. Both can be extended while in the US. One important point, in this case, is that the visitor intends to return to their home country afterward.
For those planning to work in the US, the most common options are the L visa for the internal transfer of managers or specialists and the E visa for treaty countries and investors.
E1/E2 Visa
Managers and specialists can apply for an E visa. This is valid for 5 years but the length of stay per entry is restricted to 2 years. An E1 visa is relevant when the employer and the employee come from treaty countries. An E2 visa, on the other hand, is valid when a company is founded with US investment.
L Visa
In the case of an internal transfer to an American subsidiary, parent, or sister company, an L visa is an option. This visa is intended for managers and specialists who have already gained experience in their home country. The visa is valid for 5 years for specialists and 7 years for managers. As of March 2022, spouses are eligible to work without applying for a work permit.
Further visas are available for specific cases. We will be happy to advise you if you would like to find out more.