Heidelberg, the charming city for students is also home to scientist and researchers. We present in this post the University of Heidelberg as one of the biggest employers of the region.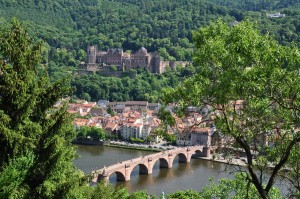 Heidelberg is considered a romantic medieval city located in the Neckar river valley in the northeast of Baden-Württemberg. Known by millions of tourists who visit every year at any time of year due to the favorable weather conditions offered by this city. In this beautiful city are various buildings that attract a lot of attention such as Heidelberg Palace and the Charles Theodore Bridge better known as Old Bridge. Another reason why the city is also known is the University of Heidelberg or Ruprecht-Karls-Universität Heidelberg, which was built in 1386 and which houses an average of 25,000 students per year due to the fame it has.
The University of Heidelberg, for decades, has been recognized for its promotion of scientific research and high-level academic activities, which are financed with federal and regional resources. In 2007, after going through a selection process, the University of Heidelberg was decorated as an elite university due to the outstanding achievements that have been compared to the best universities in the world.
If we talk about rankings, this university has obtained varied achievements; in the year 2008, the university was integrated to the ranking of universities with a greater quantity of Nobel prizes being cataloged 1° in Germany, 4° in Europe and number 13° worldwide. According to the famous newspaper "The New York Times", the university occupies position 12° according to employability. According to the Shanghai Ranking, and for the fifth consecutive time, the university ranks first in Germany, 12° in Europe and 47° around the world in 2018.
The Fields of Focus are the followings:
Molecular Foundations of Life, Health and Disease
Patterns and Structures in Mathematics, Data and Material World
Cultural Dynamics in Globalised Worlds
Self-Regulation: Individuals and Societies
All these research areas work together with different institutions of excellence both in Germany and abroad to increase and promote projects, attract as many students as possible and create new research networks.
If you are interested in being part of a great university as part of your personal and professional development, the University of Heidelberg is a great opportunity for you. Write to us and we will be happy to assist you in this new stage of your life.