Published on October 5th, 2023
Residence permits for employment are bound to specific employers – here we explain everything you need to know if you want to change employers.
What is an employer change?
In Germany, when you are awarded a residence permit for employment, whether EU Blue Card or otherwise, you are specifically bound to working for the employer stated in your contract. It is only after two years with this employer that you are generally allowed to change to working with a new employer. This means that if you want to change employer before these first 24 months are over, you have to apply to the authorities requesting permission to change employer.
What do I need?
There is a long list of documents required for this procedure, from a copy of your passport and current residence permit to your new work contract, degree certificates and application forms. These vary to a certain extent depending on which part of Germany you live and work in and we always advise checking specifically for each individual case.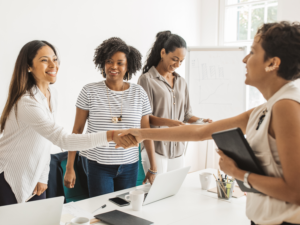 How long does it take?
As you are required to provide a number of documents to the authorities, this procedure is similar to actually applying for the permit in the first place when it comes to the effort required. Unfortunately as the authorities are currently incredibly busy, we are also seeing very long waiting times and you should plan for the process to take at least two and a half months.
When can I start my new job?
As your original permit specifically states the name of your initial employer, you are legally not allowed to start working for the new employer until the employer change has been processed and approved by the authorities. You then receive updated papers and it is not until then that you are permitted to start working for your new employer.
What to watch out for
Moving house during the employer change procedure can set back the entire process by several months as it may be the case that a different office is responsible for your case and the whole procedure has to start again from the beginning.
Our tips
Allow plenty of time, as the process is currently very slow. File for an employer change as soon as you know that you want to change employer. Be careful to provide all the relevant documents and if at all possible, avoid moving house while the change is being processed! If you need any help at all, do not hesitate to get in touch with us at Expats Guide, we will be happy to help!
Related Topics
Relocation to Germany after Brexit